Commercial Roofing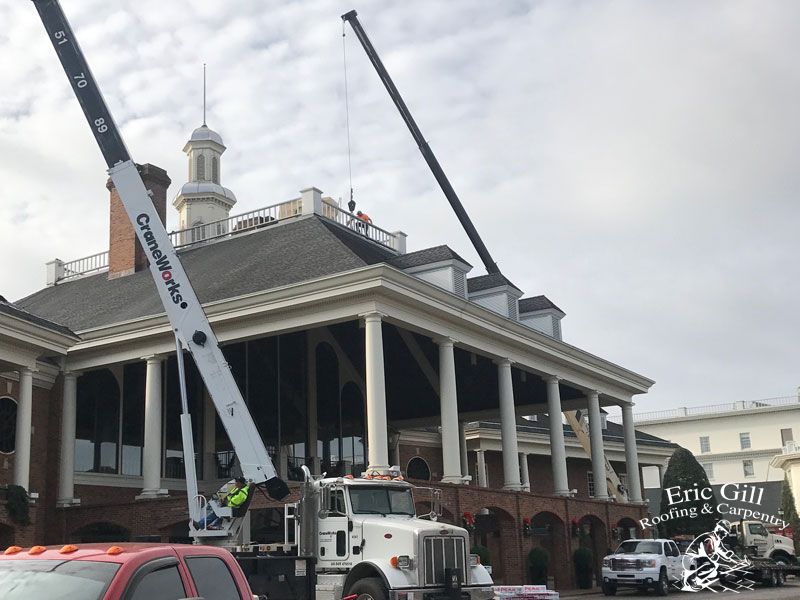 Commercial property owners have a bigger obligation than homeowners to ensure the roof over their building is in safe condition. 
Eric Gill Roofing & Carpentry is a full-service commercial roofing contractor experienced in handling the complexities of a commercial project. Our knowledgeable team and our highly skilled crews are trained to install quality commercial products to meet your roofing needs.
Commercial roof problems can cost your business money if your roofing issues begin to interrupt your day-to-day operations. If they are already that much of a problem, it is vital that you have an experienced and trustworthy roofing contractor on your side. During a commercial project, we at Eric Gill Roofing and Carpentry are always conscientious about the operation of your business and try to keep inconveniences and interferences to an absolute minimum when we are on site. We work closely with building owners and managers to ensure safety, minimize obstructions, protect your property, and keep your operation flowing smoothly. We deliver results.
While homeowners have the same needs, commercial properties affect the health and well-being of people other than your family.
More Details
We have many references
Eric Gill Roofing and Carpentry has over 24 years of satisfying customers with commercial roof repair that keeps your business running smoothly. If your facilities' roof is leaking or otherwise needs attention as soon as possible, contact us and we will immediately assess your needs.
Efficient and Professional every step of the way!
You need to call on a commercial roofing contractor you know you can trust and will get the job done right. You can trust us for your roof repair in Bowling Green, Kentucky.